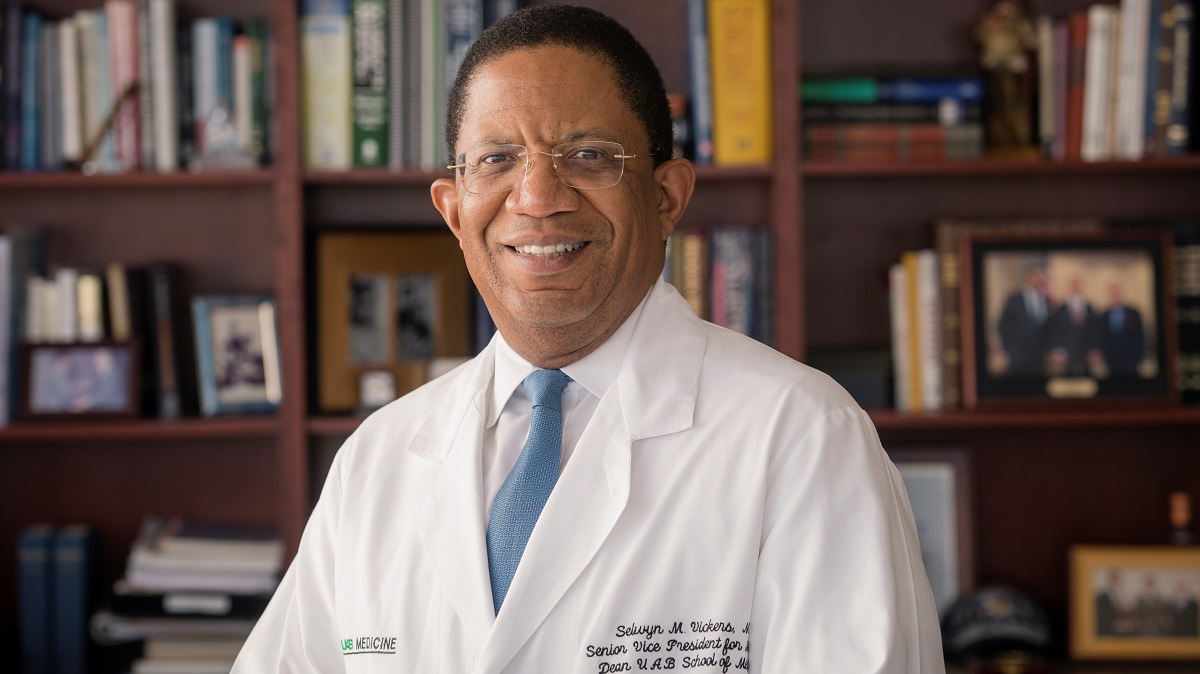 Dr. Selwyn Vickers takes the reins of the UAB healthcare system
Dr. Selwyn Vickers, senior vice president for medicine and dean of Heersink School of Medicine to University of Alabama at Birmingham, assumed the role of CEO of the UAB Health System and the UAB/Ascension St. Vincent Alliance, while continuing as Dean. Vickers replaces retirement Does Ferniany, who led the health care system for nearly 13 years.
Bulgarian Dawn, formerly Chief Financial Officer of UAB Health System, assumed the role of Chief Operating Officer and President of Health System. Bulgarella is the Chief Financial Officer of UAB/Ascension St. Vincent's Alliance and is responsible for combined annual budgets of over $5 billion. She is a graduate of the University of Alabama and holds a master's degree in health administration from UAB. In 2019, Bulgarella was named by Yellowhammer as a Woman of Impact.
Reid Jones continues its role as CEO of UAB Medicine, completing the management team with Dr. Tony Jones, chief doctor.
Vickers, a fellow of the prestigious National Academy of Sciences Institute of Medicine, is a world-renowned surgeon, pancreatic cancer researcher, pioneer in health disparities research, and a native of Demopolis. He became Dean of the Heersink School of Medicine in 2013. He served on the UAB Faculty of Surgery from 1994 to 2006.
"The selection of Dr. Vickers as CEO of the Health System and the Alliance will ensure a seamless transition of executive leadership and an uninterrupted commitment to excellence," said the UAB President. Dr Ray Watts. "We are proud to have this team of extraordinarily talented leaders, who will elevate our ability to provide the best patient care for our community, state, region and nation."
"A key facet of my new role is to synergize the pathways of academic research, patient care, education and training," Vickers said. "Continued alignment is achieved through our ability to focus on creating excellence in our individual pathways and then unite in unity for the common goal of improving quality and outcomes for our patients. ."
Vickers said aligning the health system with the leadership of the School of Medicine is an organizational structure used in many academic medical centers. The CEO/Dean model is an operationalized strategy that has been successful at many institutions.
"The structural change in the direction of our clinical business from two roles to one stems from the significant growth we have experienced over the past few years," Vickers said. "As many of our peer institutions have done, it made sense for UAB to consolidate the roles of CEO of UAB Health System and Dean of the Heersink School of Medicine into one person. A singular leader can merge the interests of all groups in our company and take a thoughtful approach to the finances, operations and results of both worlds.
Alabamians have some of the toughest statistical health disparities in the country. One of Vickers priorities is to continue to develop and expand UAB's clinical excellence programs for residents of Alabama, the Deep South, and America. Additionally, Vickers said tackling socio-economic barriers to health care and education is a key goal. Building on UAB's efforts to provide affordable health care to all people and all regions of Alabama will be a hallmark of his leadership.
"From an early age, I knew I wanted to practice medicine; but more than that, I wanted to make a difference in the lives of others," Vickers said. "Throughout my career, I have been passionate about clinical care, research and education. I have been a medical student, intern, researcher, doctor, teacher and administrative manager. As we move forward into 2022 and the years beyond, UAB will continue to pursue high quality patient care and the best possible patient outcomes, and will continue to grow our nationally recognized programs to transform this part of the country into a healthier place to live and work."
Vickers earned his undergraduate and medical degrees at Johns Hopkins University, where he completed a surgical residency. He joined the UAB faculty as an assistant professor in the Department of Surgery, where he was later appointed professor, division chair, and John H. Blue Chair of General Surgery. He was one of the founders of the UAB's Center for Minority Health and Health Disparities Research and was a Principal Investigator of the first Pancreatic Cancer Research Excellence Programs. UAB.
In 2006, Vickers left UAB to become Jay Phillips Professor and Chairman of the Department of Surgery at the University of Minnesota Medical School, one of the oldest and most highly regarded departments of surgery in the nation.
In 2013, Vickers became Senior Vice President of Medicine and Dean of the UAB Marnix E. Heersink School of Medicine, one of the largest public academic medical centers in the United States. In his role as Dean, Vickers leads the medical school's main campus in Birmingham, as well as its regional campuses in Montgomery, Huntsville and Tuscaloosa.
He was inducted into the Alabama Academy of Honor for the Class of 2021, which recognizes living Alabamians for their efforts and achievements in service to the state and country.
UAB Health System is a $5.8 billion enterprise that includes UAB Hospital, UAB-Highlands Hospital, UAB Callahan Eye Hospital, and management relationships with Medical West, Baptist Health Montgomery, Russell Medical , John Paul Jones, Whitfield Regional, Northwest Regional Health, and Regional Medical Center of Central Alabama Hospitals. The system has affiliate relationships with Infirmary Health in Mobile and Northeast Regional Hospital in Anniston. The system includes Cooper Green Mercy Health Services and UAB/Ascension St. Vincent's Alliance Health System.
This story originally appeared on the UAB News Website.
(Courtesy of Alabama Press Center)